Harrah's Chester Race Track & Casino Page

Harrah's has completed the construction of a race track and casino at the Old Sun Shipbuilding & Dry Dock site in Chester, PA  USA.  This photograph shows three of the four dry dock mooring cells in the foreground of the picture.  The small building on the far right of the picture, which is parallel to Ridley Creek is the old Blacksmith Shop with new siding and is now their maintenance building.  The actual casino floor is located just to the left of the Blacksmith Shop on the footprint of the Fabrication Shop.  Some of the vertical steel beams that supported the Fab shop still remain and are used to support the new casino section.  The building to the far left is the 'Paddock', where the horses are kept and this was built on the footprint of the Pipe Shop.  Of special interest, is the race track turn that is located in the bottom left of the picture.  To make the track a 5/8 of a mile,  they had to extend the track over Number One wet basin.


If you will look at the river side of the track, you will see a gray structure that seems to be coming from the track towards the river.  During the demolition of the Yard, I observed that this was a roadway with a ramp going out towards the river.  I was not sure what this was used for as I did not remember it their during my time at the Yard.  Recently, while doing research at the Delaware County Historical Society, I found a newspaper article from the August 14, 1997 edition of the Philadelphia Inquirer about the Yard during the Metro Machine era, when they built a roadway from the river's edge to No. 4 Dry Dock.  This was required for the overhaul of the U.S.S. Detroit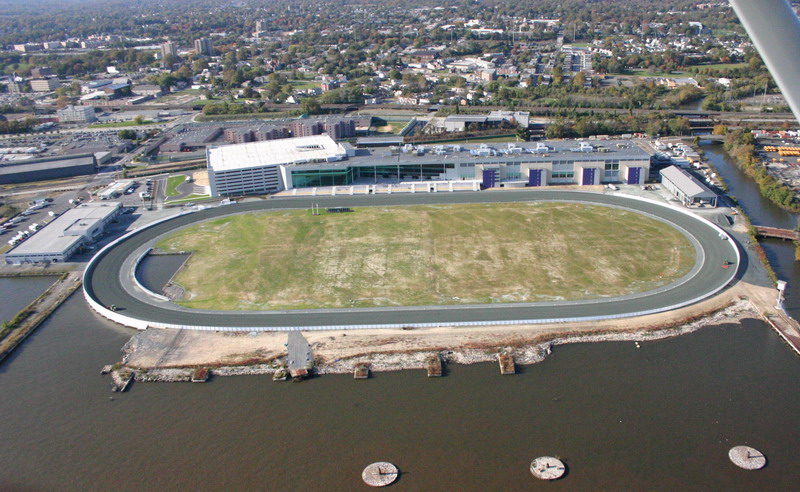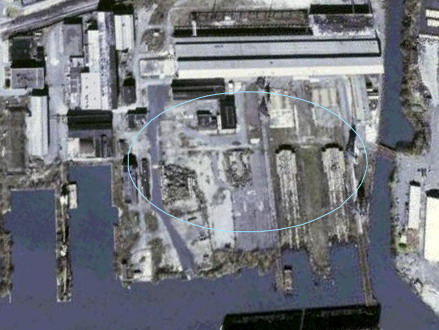 The following pre-demolition satellite photo was taken circa 2003.  The light blue oval was inserted to show the approximate location of the future race track.  Ridley Creek is shown to the far right of the photo.  The two large concrete structures located inside and to the right of the oval are shipways number 6 and 8.  The large structure just to the top of the oval is the Fabrication Shop, part of whose steel beams will become the supporting structure for the new casino.  Just to the left of the oval is No. 1 Wet Basin that will be crossed by the new race track.